Our second day in Nueva Ecija began in Cabanatuan City, with a filling buffet breakfast courtesy of Harvest Hotel. One by one, we lined up for eggs, daing na bangus, batutay, and other breakfast staples. The taho station also got us excited.
The two variants of batutay they served – garlic, and sweet – were just too good to pass up on. And as it were, I had way too many, which was just as well since our schedule that day was jam-packed.
Harvest Hotel
After our meal, we were taken into a hotel tour. Harvest Hotel boasts of a total of 81 rooms all adorned tastefully. Originally targeted to businessmen, the rooms are truly worthy of a 4-star hotel – sleek, modern, efficient. The loft suite especially. Not just for the strapping bachelor or bachelorette, it's also perfect for the squad.
We were also shown the fitness center, and the spacious pool and garden perfect for weddings and other celebrations. In fact, a wedding had just taken place the night before and the remnants of it still decorated the lawn: an arc fitted with white flowers, 3D cardboard letters that spelled LOVE, and a backdrop of vintage doors. It looked nice in the early sun.
NFA Grounds
After Harvest Hotel, we proceeded to the NFA Grounds for a tour of their museum. Displayed here are the many implements in farming, from the plows to the woven baskets used to store palay. It also provided a glimpse to early farming practices and indigenous techniques. A unique artwork is also featured – a reproduction of The Last Supper made entirely of grains. Visiting the place gives great insights to the toil and wonders of rice farming. Entrance to this NFA Museum is free but donations are welcome. It accepts visitors every Mondays to Fridays, but can also accommodate tours on weekends by appointment.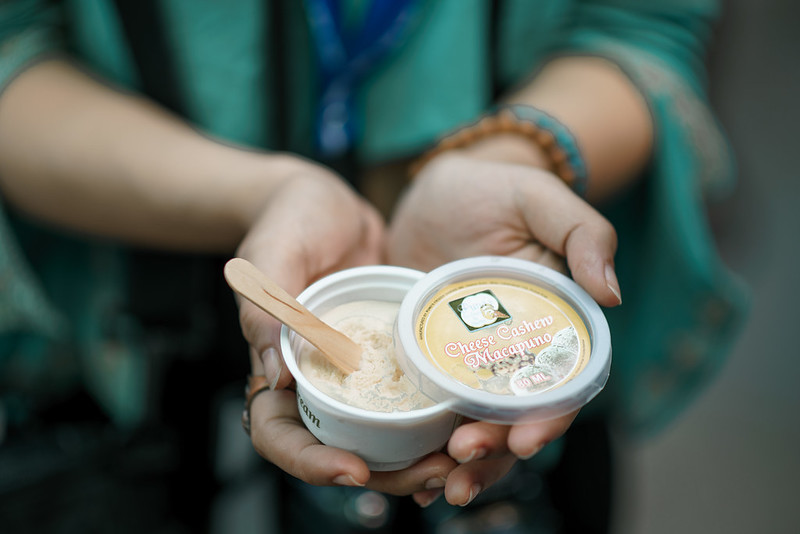 Puno's Ice Cream
Our next stop after the museum was one of my favorites. We went to an ice cream plant! Puno's Ice Cream and Sherbet is Nueva Ecija's pride, perhaps its greatest contribution to the country next to rice. During our visit, we got to try Puno's all-time bestseller: Cheese Cashew Macapuno. It was so good, I had three cups of it. Creamy, tasty, and nostalgic for some reason. The cashew and the cheese work really well together. The macapuno adding a needed bite to the symphony of flavors. Never mind the calories. I sweat it was worth it.
Aside from this all-time favorite, we also got to taste another one of their offerings: Buko Sherbet with Lychee. I also liked it. It's like shaved ice buko juice, light and refreshing with tones of sweet lychee. (In case you were wondering, sherbets differ from ice creams by way of its ingredients: the former doesn't contain milk.)
Coffee La Tea
It was past 11AM when we left the plant, before heading to where we would have our lunch, we did a not-so-quick stopover at a homey local coffee place called Coffee La Tea. We had frappes, mozzarella sticks, and bubble teas. It's a wonder our appetites did not get spoiled.
Crystal Waves Resort
For lunch, we went to Crystal Waves Resort in Talavera. This beach resort deserves more love, I think. The rates are reasonable for the available amenities: a couple of huge pools, a cool waterslide, a zipline, and other fun activities perfect for both family-bonding and team-building. There are also rooms for overnight stays.
Here, we had a boodle fight lunch. Grilled tilapia, eggplant and liempo, and salted eggs, plus a savory sinigang, were served. I also got to try the zipline, and my companions got to go on the waterslide.
Crystal Waves Resort already looked great but we were told major improvements are underway. I'm looking forward to it!
PhilRice Institute
Our next stop was the Philippine Rice (PhilRice) Institute in Muñoz. This also ranks high on my list of favorite Lakbay Norte destinations. I've always been fascinated with farming, and I want to be a farmer/forester someday, so I thoroughly enjoyed our visit to PhilRice. From the orientation (which I found too short) to the tour of the facilities, I was hooked. I especially loved the tour of Future Rice – PhilRice's response to the youth's lack of interest on farming (which I don't get. Farming is great!).
Future Rice is a program that teaches the value of farming in fun and engaging ways. The program, facilitated by college students, introduces technology as an aid to make farming techniques more efficient. This includes the use of drones and computer apps to monitor variables. The process of self-planting plows is also demonstrated here. In PhilRice, the ultimate goal is to increase yield at less cost, so modern implements like this is being tested out for use of our local farmers.
We had merienda courtesy of Chanos-chanos – a local food stall owned and ran by a teen (makes you question what you've been doing with your life) – after the tour. Rellenong bangus, and spaghetti partnered with lemon grass tea, and ube juice were our snacks.
By the way, dorm-type rooms are available for rent at the PhilRice complex, just in case you want to learn about rice and farming even further.
There was so much to learn at PhilRice that we didn't notice we were running late for our next destination: Central Luzon State University.
It was already dark when we arrived here and it was too bad that we only had a few minutes to spare. We had to pass up on the bike tour and other activities because of lack of time. It was a blur and I only remember taking a bite out of the innovative tilapia ice cream. As for it, I can only say that it was a taste sensation.
Milka Krem
We then went to Milka Krem, where high-value products developed by the Philippine Carabao Institute and PhilRice are sold. Soaps, milks, yogurt, and other dairy products are available here. They can provide styrofoam coolers to make your purchases survive the trip back home, so it goes without saying that the varieties of milk and yogurt make for perfect pasalubong!
We then had our dinner at the Science City Municipal Hall, courtesy of Muñoz's mayor. Afterwhich, we had a quick wash-up, preparing for the 12-hour journey to Cagayan.
After one heck of a day learning about farming and sampling the local flavors of Nueva Ecija, we bade goodbye to the charming province that night. Two days were too short, to be honest, and I'm sure we've barely even scratched off the surface, but, for now, I've had to make do. Cozying up in my respective seat in our custom Lakbay Norte Victory Liner bus, I pulled my sleeping-bag-cum-blanket up my chin, pleased at the newfound understanding of Nueva Ecija's identity.
What treasures await us in Cagayan? Stay tuned.
Essential Information
Harvest Hotel
1179 Del Pilar St. Cabanatuan City, Nueva Ecija
http://theharvesthotel.com/
NFA Grounds
AH26, Cabanatuan City, Nueva Ecija
+63 44 463 1168
Puno's Ice Cream and Sherbet
Maharlika Highway, Bitas Cabanatuan City, Nueva Ecija
+63 44 464 8694; +63 932 881 4249
Crystal Waves Resort
AH26, Dinarayat, Talavera, Nueva Ecija
+63 44 411 0834
Philippine Rice (PhilRice) Institute
Science City of Muñoz, Nueva Ecija
+ 63 44 456 0277
www.philrice.gov.ph
[email protected]
Chanos-chanos
Maharlika Hi-way Cor Bayuga St. Science City Of Munoz, Muñoz, Nueva Ecija
Milka Krem
Philippine Carabao Center, Science City of Muñoz, Nueva Ecija
+63 44 940 8476
Operating Hours: Mondays to Sundays, 8AM to 6PM
My name is Celine, forever 18, thrill-seeker, tree-hugger, moon-worshipper, tea-chugger, and storyteller extraordinaire!