Carles in Northern Iloilo is steadily getting a good stream of tourist nowadays. The municipality, once ravaged by Typhoon Haiyan is now a popular jump-off point for Isla de Gigantes island hopping exploration. If not staying on the islands, Carles is the best area to stay. Coming from the earliest flight from Manila to Iloilo and a 3-4 hours road travel to Carles, I finally made it to my home base for two nights, The New Beach Head Resort. It's easy to downplay the resort for having only a 1-star rating in booking sites. It is also considered as the "2nd best resort" in the Carles. But it honestly didn't feel 1-star at all! It felt more than 3-star in terms of comfort and neatness. Not to mention, a beach area where beautiful sunsets abound.
The New Beach Head Resort
Located in Barangay Barobos in Carles, it is easy to find the New Beach Head Resort just a few meters off the main road. This a family-owned beachfront property was acquired in 2014. It had to undergo several renovations after it sustained heavy damage when Typhoon Haiyan ravaged by the area. The property spans a half hectare with ample parking space. The beach is not that ideal for swimming nor that appealing as it's usually shallow but there are unobstructed sunset views.
Rooms
Arriving mid-morning from long transit, I was just yearning to finally wash-up and catch up on some sleep. I felt relieved to find out the room was already available and I could check in early. I had one of the Quadruple Rooms. It was spacious at 31 square meters with two big beds. Clean and neatly designed. Airconditioning, Cable TV, a small terrace, closet and strong water pressure at the bathroom. Had quite a rest.
The my companion Archie off Duty came in the evening from Bacolod and I moved with him to the next door room with a large two queen bed room.
Facilities
A big surprise for me was the gorgeous looking pool at the heart of the resort. It's a plus considering the beach isn't appealing for swimming. Complete with lounge chairs and sun umbrellas.
The open air dining area also looks nice. It lets the breeze pass through and have a good view of the sea. The menu is quite limited though as they are dependent on ingredients available. So expect the menu to change or ask first what's available. Though food quality can sometimes be inconsistent (especially for the breakfast offerings), most of the ala carte meals are cooked quite good. Ideal for groups as orders are hefty and pricey for just a person.
They claim to have Wifi in all rooms but at the moment of visit, Wifi was only available (and strong) by the reception area. Cellular signal as well drops inside the room. Good thing there are table and chairs outside the room for that much needed data.
Experience
We stayed for two nights at the New Beach Head Resort. Didn't get to ask why they named the place as such but it is definitely one of the underrated resorts I have visited. I guess because I wasn't expecting much from a 1-star labeled resort but it generally was a very pleasant stay. Neat and spacious rooms, a nice looking pool, good food, accommodating staff and lovely sunsets. At the time of writing, they were building an events space, probably a pavilion but it wasn't a disturbance during our stay. Price is quite reasonable too as the room I got was as low as P2,000 good for four persons. With this experience, I wouldn't judge resorts by their star labels. It's best to look and give them a chance.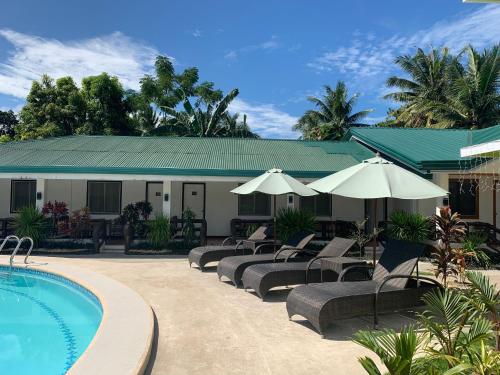 The New Beach Head Resort (Book Online)
Barangay Barobos, Carles
Facebook: /newbeachheadofficial/
IG: @newbeachheadresort
This entry is part the Panay Loop Tour arranged by Las Islas Travel and Tours. Be sure to check this DOT-accredited tour agency for hassle-free tours around Panay Island.
Ferdz Decena is an award-winning travel photographer, writer and blogger. His works has found print in publications such as Singapore Airlines's Silver Kris, Philippine Airlines' Mabuhay, Cebu Pacific's Smile and Seair InFlight. He has also lent his expertise to various organizations like the Oceana Philippines, Lopez Group Foundation, Save the Children and World Vision, contributing quality images for their marketing materials.